You are here

Independent Women
Independent Women
Eric has experience helping women navigate the unique challenges faced during a divorce, career changes and following the loss of their spouses. He provides his clients with the common-sense financial guidance they need to manage their money for the rest of their lives.
Growing up in the metro Detroit area, Eric Nichols watched his mother and grandmother stretch their dollars to ensure their family didn't want for anything.
As a financial consultant, Eric has found a fitting way to pay tribute to their lives; he helps women like you develop and manage wealth wisely.
Eric has been providing financial and investment services since 1982, and he can show you how to plan to preserve and accumulate wealth for a financially independent tomorrow. As a Chartered Financial Consultant (ChFC), he does it in a way that empowers you to take control of your life.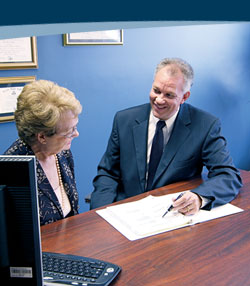 I entered this business because I am passionate about helping people.
A Loyal Friend, A Trusted Advisor
Eric is a professional with integrity who respects women and their concerns. While other advisors like to do all the talking, he listens to learn about what you care about. He puts himself in your shoes so he can create strategies that fit your circumstances.
Plan to Build Lasting Financial Stability
Eric will create customized strategies designed to preserve and help grow your nest egg. He'll show you how to invest according to your risk tolerance - to help reduce taxes, build up assets, and put you on the road to financial independence.
Are you seeking more financial knowledge? Do you need to find answers to pressing questions or plan a transition from one phase of life to the next? Contact Eric today - he can provide personal financial care and leadership at an important time.
Empowering Women and their Financial Future
As an independent woman in charge of your own finances, wouldn't it be great to have a partner you could turn to for sound advice and judgment?
Eric Nichols can help you face difficult financial decisions with confidence. Using caring support and experienced guidance, he'll help you manage your money for long-term financial independence - so you can focus on the things you enjoy.
Eric is committed to comprehensive financial guidance. He can also answer your questions and help you in regards to establishing proper financing of homes and vehicles, as well as review your insurance coverage. He's a partner you can trust for honest advice and sound judgment when you need it most.
A Gifted Guide
Eric simplifies the complex world of finances. That's why he takes as much time as necessary to help you understand your options, and to make informed decisions.
Instead of confusing you with technical jargon, Eric explains things in everyday terms. He'll create a one-page snapshot of your finances - an easy-to-understand document showing you where you are now, and assisting you in getting where you want to go.
When it comes to your financial strategy, your voice needs to be heard and your preferred investment style needs to be respected. Eric will listen and work with you to structure your financial strategy in a way that you are comfortable with.
Clear the way to a new beginning. Let Eric Nichols help you plan for an independent financial future. Contact him today.
Common Financial Concerns:
Income strategies for retirement
Cash flow planning for now and during retirement
Planning for children and grandchildren's education
Income replacement if a spouse dies unexpectedly
Long-term care and medical needs
How to leave a financial legacy